Make 'Getting Together' effortless and even more memorable with VRIDDLE invitation videos.
We take the unique pleasure in creating videos that mark a major milestone of your life – From the day of being a 'Valentine' to 'Anniversary of becoming a Parent'.
Different Traditions, Different Rituals. Plan your dream wedding from start to finish with VRIDDLE Invitation Videos.
Gift an Anniversary Video and Surprise your Better Half!
Anniversary is one such moment where you have whole lot of memories to look back along with the couple on their once celebrated Big Day. Year on Year that day becomes all the more special when the couple celebrate their 1st, 5th, 10th, Silver and Golden Jubilee Anniversaries
Make your better half feel special with an anniversary video. You can create a special video describing your beautiful wedding journey, very happiest moments after marriage, special gifts, children.
Parents love surprises from their Children. This can be a unique gift on their anniversary that will add to their delight. Gather all the photographs from all the yester years and make this memory book for them.
You definitely remember that cousin's wedding where you had a blast, same time last year. Want to give them a thrilling experience this anniversary? You are in the right place!
A Parent's delight about their child's wedding can only be seen but cannot be expressed in words. Send your blessings with this video to your children and leave them in awe, thinking what parents can do for their children's wedding anniversary.
Make an Anniversary video for your friend, colleague, boss or a family friend. We are here to customize your video with your ideas. Dont worry if you do not have sufficient photos of the couple. Upload what you have and we will come up with templates that suit your data and requirement.
Send word to family and friends for your Baby Naming Ceremony & Birthdays with a Classic and Trendy Video
Whether you are throwing a milestone birthday party or surprise party or searching for specialty invitations, we have the perfect design for you. Browse our Baby's First Year invitation gallery for dozens of birthday party designs for your little birthday boy or girl, featuring trendy themes .
We take the unique pleasure in creating a Valentines day video that might change your life, Forever.
Different Valentines Day Video Styles, Templates,Proposal Ideas that we follow. If your proposal is completely out of the blue, then animations and effects that strike an emotional chord with your story is a perfect choice. If there are any videos or pictures that you have taken together previously, creating a slideshow video for valentines day will be a good choice.
Create a memorable highlight video to impress your loved ones!
Looking to preserve certain moments of your wedding? Don't worry VRIDDLE will help you all.
Photographers, Videographers and Event managers can create wedding highlight videos in cinematic style, photo montage video , wedding teaser styles.
How it works?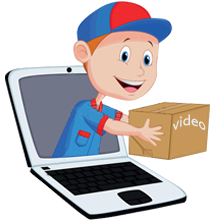 Receive HD Video Online.

Basic Service
About 2 min. videos, Simply animated videos, Mini slideshow, Less time taken videos
Starter Service
Highly animated videos, Above 2 – 5 min. videos, Image slideshows, Effects based videos, About 20 – 30 Images
Premium Service
Text, Song, Concept customized videos, Above 5 Min. videos, Slideshow videos at above 30 Images
Customer Reviews: Listen to what our customers say…
" Thank you so much 🙂 You people gave me the exact thing which I was expecting. Couldn't ask more. Pass on this message to the team as well!"
Mr. Hariharan Natarajan,
"Thanks a lot guys. Totally worth it. Great job."

"
Ms. Anju Filhaal,